Mr. Talib Syed Karim -
President - Management Association of Pakistan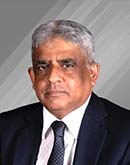 It's a privilege to be elected as the President of an over 55 years' organization, Management Association of Pakistan (MAP), established with a vision to lead the change process towards best management practices. MAP is an organization that has, over the years, conducted numerous workshops and training programs to enhance the human capital in terms of good management practices, productivity and creativity.
MAP is  a  professional Association, a not-for-profit and a non-political organization. The Association has an elected board of directors, i.e. the Executive Committee, comprising of corporate leaders from Pakistan's top-notch companies viz. Institute of Business Management (IoBM), Schneider Electric Pakistan (Pvt.) Ltd., Cherat Cement Company Ltd., Junaidy Shoaib Asad Chartered Accountants, KPMG Taseer Hadi & Co., English Biscuit Manufacturers (EBM), Jubilee General Insurance Company Ltd., Meezan Bank Ltd., FPCCI  and Lumina Consulting Services (Pvt.) Ltd.
Since its inception in 1964, MAP has dedicated its efforts in promoting professionalism in management disciplines and best management practices.
Short Training Sessions
Advanced Certifications
Virtual Series
Understanding your objectives and providing bespoke courses, we believe in quality, convenience and your choice.
Corporate Excellence
Awards
Since 1982, MAP holds pride in recognizing and rewarding the Corporate Excellence Awards.
Flagship Annual
Conventions
Besides our workshops on array of management topics, each year, we bring together national and international leaders.
13th August 2021, Karachi
MAP elects new Executive Committee
Members & Office Bearers
Management Association of Pakistan (MAP) elected new Office Bearers in its 576th Executive Committee meeting held on 13th August 2021 in Karachi. The new Office Bearers are: Mr. Talib S. Karim – President, Mr. Humayun Akhlaq – Vice President, Mr. Abid Akber Vazir – Honorary Secretary and Mr. Farrukh V. Junaidy – Honorary Treasurer. Earlier, during the Extra Ordinary General Meeting held on 30th July 2021, results for the ten positions of the MAP's Executive Committee were announced.
Following Executive Committee members were declared elected unopposed for the period 2021-2024: Mr. Abid Akber Vazir, Executive Director  . . .
member logos A
Institutional Members' Category A
Member logos B
Institutional Members' Category B

Member logos C
Institutional Members' Category C